LITTLE BOY (Stoner-pop / Desert-rock - Lille)
Little Boy, c'est une musique brute et directe, aux structures hypnotiques, simples et répétitives, dans la lignée des groupes de Desert-Rock californiens (QOTSA, Masters of Reality, Them Crooked Vultures...). Mais c'est aussi une pop faite de mélodies omniprésentes, stylées et obsédantes. Les voix sont chaudes et planantes, ce qui donne une couleur indiscutablement suave et sexy, les rapproche ainsi d'une Power-Pop à la Pretty Things. Un savoureux mélange… !

BIOGRAPHIE :

Little Boy a donné plus de 100 concerts dans le nord de la France, en Belgique et en Angleterre, et a reçu un franc succès. Le groupe a enregistré son premier maxi (Never Say Die - 4 titres) en octobre 2007. En 2009, ils sont repérés par le label RKO records avec qui ils coproduisent leur premier album (Into the waste & howling wilderness - 9 titres, 2011). Ils travaillent actuellement sur leur prochain EP, Basement 9, d'où sont issus les morceaux Siderophonic et Two Bottles.

Yacek : Batterie, percussions, choeurs.
Bodeg : Basse.
Luis : Guitare, lapsteel, choeurs.
Boris : Guitare, chant, charango, banjo, percussions, orgue électrique.

DISCOGRAPHIE :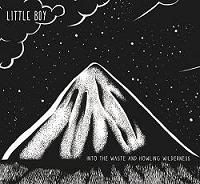 Le premier album de Little Boy est désormais disponible !
Into the waste & howling wilderness (Little Boy / RKO Records, 2011)


- Ecoute libre :
SoundCloud
.
- Téléchargement payant :
BandCamp
.
- Vente en ligne :
RKO Records
.
- Vente en magasins : Cultura, Furets du Nord, médiathèques, MinorPlace Records, etc.
Texte et musique de Little Boy. Enregistré, mixé et masterisé par Little Boy.
Produit par Little Boy & RKO Records (Digisleeve 3 volets, 1000 ex. Tous droits réservés.).
CONTACTS ET LIENS UTILES :
Little Boy est sur
MySpace
.
Little Boy est sur
FaceBook
.
Little Boy est sur
YouTube
Booking :
Mail :
thelittleboyband@gmail.com
Tel. 06.15.92.03.80
Maison de la Jeunesse et de la Culture de Croix
93, Avenue Jean Jaurès. 59170 CROIX.